13W Compact Fluorescent Light Bulb (CFL) 2-Pack
$11.95
**2 BULBS PER PACKAGE**  The spiral Verilux Natural Spectrum Compact Fluorescent Light Bulb (CFL) brings outdoor light inside by providing a bright white light that enhances color and clarity. Perfect for home, office, crafting, or studying. 
FULL SPECTRUM - Intense white light for maximum clarity & color
ENERGY EFFICIENT -

 75% more efficient and lasts up to 10,000+ hours

 
COST EFFECTIVE -

Save up to $51 over the life of each bulb

2 BULBS PER PACKAGE - Provides you with twice the amount of outdoor light 
View Lighting Facts / Warnings
---
Bulb Troubles? Get a Refund
We take extreme care to package our bulbs so that they are not damaged in shipping. But we know that accidents happen. If your bulb arrives damaged, doesn't work, or doesn't solve the issue that you're having, contact us or call us at 1-800-786-6850. We'll make it right by sending you a new bulb or refunding the purchase price of the bulb. That's the Genuine Verilux Bulb Guarantee. Your happiness is our mission. Proof of purchase required.
Customer Reviews
Write a Review
Ask a Question
Filter Reviews:
lamp
light
products
company
everything
help
order
staff
room
customers
06/23/2020
Johnny C.
United States
I recommend this product
Good comfortable illumination
Good and comfortable illumination, although I didn't expect it the light produced to be so "florescent white"; was hoping more of a warmer-toned "moonlight" (off-white), but this white light does seem to make everything look shaper and yet with less strain to the eyeballs/brain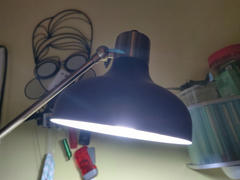 12/02/2019
Emilee M.
United States
I recommend this product
Great Lights
I didn't have any problems with these bulbs, they fit perfect into a regular lamp.
10/25/2019
Elizabeth P.
United States
I recommend this product
Lighting up my nest
I have not yet deployed the bulbs but I will praise the help I got on the phone. I am not sure about the bulbs yet but your employee is stellar!‍♀️
08/26/2019
Joyce S.
United States
I recommend this product
Love the bright light!
We are very happy with these bulbs. They brighten up the whole room which helps with my depression.
07/11/2019
Marcella B.
United States
I recommend this product
It's Ok
The 13W verilux bulbs are very dim to be a bulb that's equivalent to a 40 watt bulb. I think most Customers will be more pleased with the 23W.
Related Items