HappyLight® Duo - 2-in-1 Light Therapy & Task Floor Lamp
<! –– Bazaarvoice Shopify Integration Version 2.0 ––>
$129.99
Benefit from the power of sunlight with the clarity of premium task lighting with the new HappyLight® Duo. This 2-in-1 floor lamp is a great addition to any home by safely bringing daylight indoors by emitting a bright white light that mimics sunlight. This customizable lighting solution is perfect for readers, artists, hobbyists, crafters, and anyone seeking a powerful lamp with adjustable light. This lamp offers true color rendering to illuminate the details and easy-to-use controls that allow you to change both color temperature and light intensity. It's time to plug in, get happy, and get crafting!
Full-spectrum, UV-free light with clinically proven 10,000 lux intensity

Choose from 3 HappyHue™ color temperatures (daylight, warm light, and cool light)

Choose from 5 brightness levels for your preferred comfort

360° flexible gooseneck to reposition your light where you need it

15" easily adjustable height
User Manual: HappyLight® Duo 2-in-1 Light Therapy & Task Floor Lamp User Manual
*Please consult the manual for usage recommendations and cautions. 
---
HOW IT WORKS
Sunlight is an essential ingredient for a healthy lifestyle, but many of us don't get the amount of bright light we need to experience its benefits. The HappyLight® Duo - 2-in-1 Light Therapy & Task Floor Lamp is a light therapy solution that safely brings daylight indoors by emitting a bright white light that mimics sunlight. Plug it in & get happy!
FEATURES
10,000 LUX 
3 temperature settings
5 brightness levels
Flexible gooseneck
15" adjustable height
Easy-touch control panel
Perfect size for your desk, table, or nightstand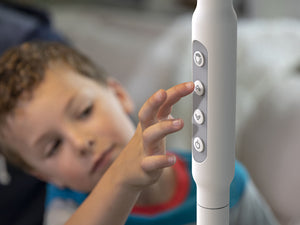 Customize + Go
Use the easy-touch control panel to choose from 5 different levels of brightness and select the color temperature that best suits your needs from daylight to warm white. In addition, adjust the flexible gooseneck to direct safe, healthy light to where you need it most and to use it as part of your daily routine.
DETAILS
Dimensions: 10" x 10" x 45.3"- 61"
Weight: 9.9 lbs
Illumination Intensity: 10,000 LUX at 12"
LED Lifespan: 50,000 hours
MAKE EVERY DAY BRIGHT
Customizable settings allow you to achieve a light therapy experience that's most comfortable for you. Safely bring daylight indoors with LED technology that offers full-spectrum, 10,000 lux light without any harmful UV rays.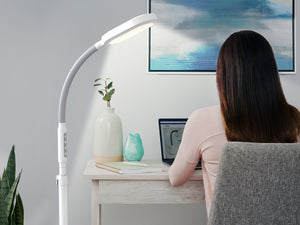 Soak It All In
Keep life bright with a HappyLight®. Not sure if this product is right for you? Don't worry, there's something here for everyone.
View all
<! –– Bazaarvoice Shopify Integration Version 2.0 ––>