HappyLight® Luxe
<! –– Bazaarvoice Shopify Integration Version 2.0 ––>
$69.99
Introducing the new HappyLight® Luxe light therapy lamp by Verilux - featuring adjustable color, temperature and a countdown timer that allow you to personalize your experience. Plug it in & get happy!
Full-spectrum, UV-free light with clinically proven 10,000 lux intensity
Adjust color from daylight to warm white
Choose from 4 brightness levels
Easily set the countdown timer up to 1 hour in 5-minute increments
Also available in White Marble and Champagne Gold
User Manual: HappyLight® Luxe User Manual
*Please consult manual for usage recommendations and cautions.
---
How it works
Sunlight is an essential ingredient for a healthy lifestyle, but many of us don´t get the amount of bright light we need to experience its benefits. The HappyLight® Luxe light therapy lamp safely brings daylight indoors by emitting a bright white light that mimics sunlight. Plug it in & get happy!
Features
Sleek, tablet design
Perfect size for a purse, suitcase or desk
Choose from 4 different brightness levels
Adjustable color temperature with 3 settings
Countdown Timer
LED technology
customize + go
Choose from 4 different levels of brightness and select the color temperature that best suits your needs from daylight to warm white. Use the countdown timer to set usage for 1 hour or 5 minute increments. Its sleek, durable design makes it easy to take on-the-go and use as part of your daily routine.
Details
Dimensions: 11.7h X 7.5w X 0.5d
Weight: 2 lbs
Wall Mountable
Detachable Stand Included
Make every day bright
Customizable settings allow you to achieve a light therapy experience that´s most comfortable for you. Safely bring daylight indoors with LED technology that offers full spectrum, 10,000 lux light without any harmful UV rays.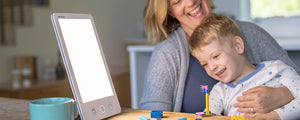 Soak it all in
Keep life bright with a HappyLight®. Not sure if this product is right for you? Don´t worry, there´s something here for everyone.
Shop all
<! –– Bazaarvoice Shopify Integration Version 2.0 ––>